Colonial Officials > Charles Eden
Charles Eden
Background
Charles Eden (1673-1722) was the governor of the Province of North Carolina during the Post Spanish Succession Period and was infamous for working with the Flying Gang pirates such as Edward 'Blackbeard' Teach and giving them sanctuary and protection.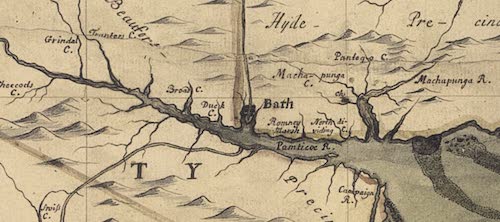 This was not a common practice in the colonies as the pirates often provided more protection and support to the colonial governors than the Royal Navy could at the time and therefore it was viewed as a necessary evil. Plus the pirates allowed the colonists to have goods that they otherwise would not under the draconian mercantilism laws.
During this time the capital of North Carolina was Bath and in 1718 both Blackbeard and Stede Bonnet traveled to meet Charles Eden in order to take the 1718 King's Pardon and cease their operations. After accepting the pardon Blackbeard settled down in Bath and married a local girl.
Blackbeard would still continue his piracy, giving a part of it to Eden and local judge Tobias Knight. When Blackbeard was killed he had a personal correspondence from the colonial administrators suggesting they were on congenial terms with the infamous pirate captain. A prominent colonist named Edward Mosely began to make waves about how Eden had protected Blackbeard and was arrested.
Eden was never officially charged with corruption in regards to Blackbeard as much as his political opponent Alexander Spotswood would have liked. Despite being cleared of all charges his reputation greatly suffered and he died in 1722 of yellow fever. His gravestone reads that he "died much lamented".
Sources