Colonial Officials > Tobias Knight
Tobias Knight
Background
Tobias Knight was an attorney, judge and government official of the Province of North Carolina. He served under Charles Eden and was implicated along with the Governor following the infamous pirate Edward 'Blackbeard' Teach's defeat and death at the Battle of Ocracoke Inlet. Blackbeard had been killed at the hands of pirate hunters led by Edward 'Blackbeard' Teach's defeat and death at the Robert Maynard under the commission of the Governor of Virginia named Alexander Spotswood who failed to inform the North Carolina government about the operation.
Tobias Knight would never be convicted of anything and Charles Eden would die before anything happened so in the end the entire operation was not the political success that Spotswood planned it to be. He had hoped to catch the Governor and other officials of North Carolina in a piracy scandal to boost his own credibility with the crown and possibly get a better promotion.
Early Life
He lived in the settlement of Bath and not much is known about his early life. The earliest historical record we have of him is dated 16 April 1710 from the Colonial Records of North Carolina. Here he was documented as being a member of the governing council for the colony at the time. In 1711 he was part of the group that asked the Queen for support against the Amerindians who were terrorizing the settlements at the time. That same year he was made the "Commissioner and Trustee for the due Inspection and Preservation of the Library."
Following this on 12 July 1712 Knight was appointed as the deputy proprietor to John Danson. This same year he also became the secretary of the government of North Carolina under the leadership of Governor Charles Eden as well as the customs and tax collector. At some point throughout 1712 Knight married Catherine Glover who was the widow of the deceased Governor William Glover. His marriage to Catherine was quite scandalous because Governor Glover had borrowed money from the Church and died before he paid it back. Tobias stated he would not pay back the debt so people in the colonial community believed that Knight was effectively robbing the Church.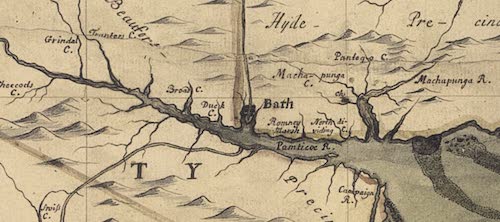 Two years later on 17 December 1714 his power would increase when he became the deputy proprietor to Lord Craven. The next time Knight appears is in 1715 when the colonial government of North Carolina authorized Knight to receive prisoners from Virginia and bring them to trial before a magistrate with a compensation of 20c for each prisoner. That same year he was made the ventryman in the West Parish of the Pasquotank Precinct of the Anglican Church. Two years later in 1717 on 1 August Knight was selected to become the "Governor and advice and consent of the Council . . . Chief Justice of the Province," where he would serve until shortly before his death.
That same year in 1717 on 5 June he purchased a tract of land near Bath that was called Archbell Point. The property had previously belonged to one of the original pioneering settlers of North Carolina named Landgrave Robert Daniel and Knight purchased it from his widow. Following the purchase of this land, Tobias Knight soon gained a powerful neighbor; Charles Eden.
On 22 November of 1718 the infamous pirate Edward 'Blackbeard' Teach would be slain during the Battle of Ocracoke Inlet by Robert Maynard who was commissioned by Governor Alexander Spotswood to track down and eliminate the pirates. Following the engagement Maynard would find correspondence between Knight and Blackbeard that greatly implicated him according to Spotswood. The note read;
November 17, 1718
My ffriend,
If this finds you yet in harbour I would have you make the best of your way up as soon as possible your affairs will let you. I have something more to to say to you than at present I can write; the bearer will tell you then end of our Indian Warr, and Ganet can tell you in part what I have to say to you, so referr you in some measure to him.
I really think these three men are heartily sorry at their difference with you and will be very willing to ask your pardon; if I may advise, be ffriends again, its better than falling out among your selves.
I expect the Governor this night or tomorrow, who I believe would be likewise glad to see you before you goe, I have not time to add save my hearty respects to you, and am your real ffriend.
And Servant
T. Knight
However, even more compelling evidence would come when some of Blackbeard's crew including some freed slaves would stand trial in Williamsburg, Virginia in the Court of Admiralty. Here on 12 March 1719 the pirates gave testimony that implicated Knight in piracy after the 1718 King's Pardon was in effect. The evidence was so compelling that Spotswood sent depositions to the government of North Carolina. Knight was formally accused of accessory to piracy and his trial began on 27 March 1719 in the home of Fredrick Jones with Governor Charles Eden sitting with the governing council.
Knight, despite being old and close to death would conduct his own defense and the letter had been sent to Blackbeard while he was still under the protection of the pardon and he had no knowledge of his new pirate exploits. He also stated the slave had no right to testify under English law and the pirates were unscrupulous individuals who would say anything to save their own necks from the hangman's noose. The governing council eventually acquitted him of all charges but Knight resigned from the office of chief justice of the colony.
Death
Following this Captain Ellis Brand wrote to the Lords Commissioners of Admiralty lodging a complaint that Knight and the others in the Province of North Carolina were aiding the in the pirate trade. However, before he could be prosecuted for the charges Tobias Knight eventually died combating a long illness and his estate was bequeathed to his wife Catherine along with the executrix and his step-daughter named Elizabeth Glover. He would never face prosecution or public acknowledge of crimes involving Edward 'Blackbeard' Teach.
Governor Eden was criticized for declaring Knight innocent despite the weight of evidence against him despite the fact he was acquited by proper legal trial with abundence of evidence presented. This was mostly because much of the testimony and evidence brought against Knight could not have been used in a court of law and convincing arguments were never found for either side. Overall regardless of his involvement with pirates this was a common practice at the time and completely necessary for the survival of New World colonies left defenseless without proper military protection from their colonial empires.
Sources
Primary Sources
Secondary Sources
Walter Clark, ed., State Records of North Carolina, vols. 23, 25 (1904, 1906).
J. Bryan Grimes, Abstracts of North Carolina Wills (1910).
Francis L. Hawks, History of North Carolina, vol. 2 (1858).
Robert E. Lee, Blackbeard the Pirate (1974).
Ursula F. Loy and Pauline M. Worthy, Washington and the Pamlico (1976).
William L. Saunders, ed., Colonial Records of North Carolina, vols. 1, 2, 4 (1886).
"Historic Bath" N.C. Historic Sites, N.C. Office of Archives & History: http://www.nchistoricsites.org/bath/blackbeard.htm (accessed June 10, 2013).
"Minutes of the North Carolina Governor's Council, including a deposition, a remonstrance, and correspondence concerning Tobias Knight's business with Edward Teach." Colonial and State Records of North Carolina. Documenting the American South, University of North Carolina at Chapel Hill. http://docsouth.unc.edu/csr/index.html/document/csr02-0181 (accessed June 10, 2013).
Zepke, Terrance. Pirates of the Carolinas. Pineapple Press Inc, 2005. 34.
Weeks, Stephen B. "Blackbeard, the Corsair of the Carolinas." The University Magazine [University of North Carolina]. 21/8, no. 3. (1889) 98-116.
Konstam, Angus. Blackbeard: America's Most Notorious Pirate. John Wiley & Sons, 2007. 276.