Pirates > Flying Gang > Edward 'Blackbeard' Teach
Edward 'Blackbeard' Teach
Background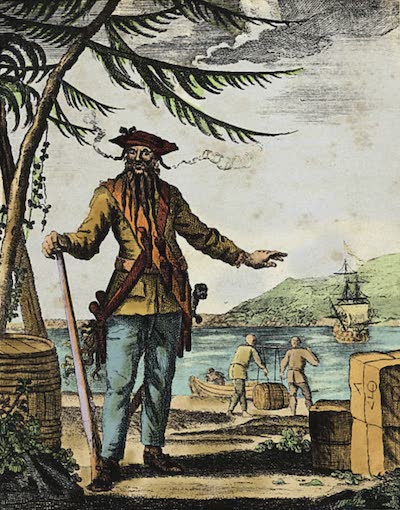 Edward "Blackbeard" Teach was one of the most Flying Gang of the Golden Age of Piracy and despite not being the most successful is still one of the most famous in popular culture. He is most notorious for adopting of the terrorist tactics of the Buccaneering Era along with the technological and weapons advancements of the 18th century to become of the most feared pirates of the Flying Gang during the Post Spanish Succession Period.
Blackbeard was famous for joining the Golden Age of Piracy as a crew member of Benjamin Hornigold during the early 18th century. He was responsible for helping the Flying Gang establish the Republic of Pirates on the island of Nassau. Following this he would take part in the Blockade of Charles Town along with Stede Bonnet, an act which would gain them infamy throughout the British Empire.
Eventually Blackbeard became so notorious that he incited the anger of colonial governors such as Alexander Spotswood who dispatched pirate hunters under the command of Robert Maynard. After a lengthy engagement which became known as the Battle of Ocracoke Inlet the infamous Blackbeard was killed by multiple gunshots and sword wounds during brutal hand to hand combat. He was decapitated posthumously and his head was brought back to Virginia, thus ending the career of one of the most famous pirates to ever venture to the West Indies.
Early Life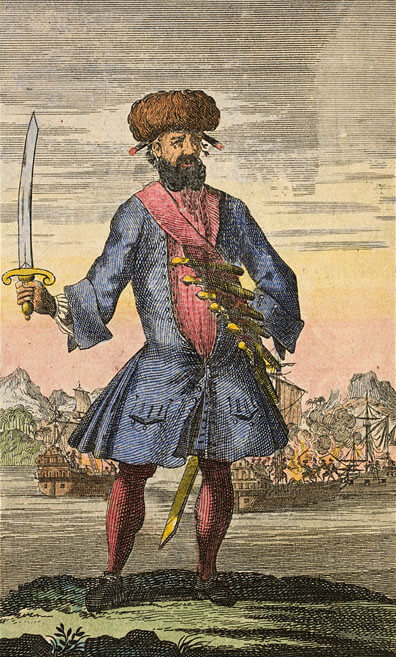 Not much is known about Blackbeard's early life as his past is shrouded in mystery. This is most likely due to the fact most pirates adopted nicknames to not bring unwanted attention on their family name back in their home country. However, records indicate that Blackbeard was an intelligent pirate, being able to read and write and communicate with merchants at ease. This could have meant he was from a wealthy family in England, however again little is known about his beginnings.
He is believed to have been born around 1680 and historical records suggest his name could be Edward Thatch or Edward Teach. However it has also been spelled in historical documents as Thatch, Thach, Thache, Thack, Tack, Thatche and Theach. This is because in the 18th century there still was no standardized form for last names, let alone much written records to corroborate them.
Blackbeard was most likely an English privateer during the War of the Spanish Succession also known as Queen Anne's War, and arrived in the Caribbean at the turn of the 18th century according to Charles Johnson and his A General History of Pyrates (1724), however again there is no viable information regarding this. What is known however, was that Teach became a pirate and joined Benjamin Hornigold around 1716 and was known to be operating out of Nassau on the island of Bahamas with its easy access to the northern shipping lanes.
See Stede Bonnet
In 1716, Hornigold placed Teach (he would not become "Blackbeard" till 1717) in charge of a sloop that they captured. In September the stories of two famous pirates collided when an injured Stede Bonnet met up with Hornigold and Teach. Bonnet was still reeling from his wounds and temporarily placed Teach in command of the Revenge while he recovered. Bonnet's crew was fed up with his command and needed a strong leader like Teach. At this point Teach became a real captain in his own right as he took advantage of Bonnet's resources.
Near the summer of 1716 Hornigold was deposed from his captaincy for refusing to attack English ships. It is not known weather Teach had any involvement, but most accounts put him separating from Hornigold with the Revenge and one of the captured sloops much earlier. Samuel Bellamy took command of Hornigold's crew and ship and Hornigold returned to the Republic of Pirates. Here he met back up with Blackbeard and sailing as a pair the two captured a ship carrying 120 barrels of flour coming out of Havana and another ship carrying 100 barrels of wine from Bermuda. At this time there were three ships in the fleet, Teach on the Revenge, Teach's old ship and Hornigold's Ranger.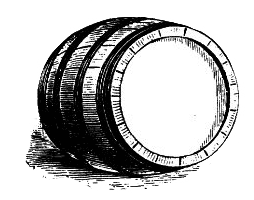 A few days later on September 29th, 1717 they looted a ship named Betty coming to Charles Town in South Carolina from the Madeira Islands containing a vast quantity of wine. The crew took all the wine from the ship and scuttled the boat itself. These captures were ultimately what would land Teach's name for the first time in the historical record. Captain Mathew Munth of the Province of North Carolina anti-piracy patrol would report around this time as well that "Thatch" was operating a sloop of 6 guns with a crew of 70 men. At this point Teach was a pirate in his own right.
In October of 1717 Teach added another captured vessel to his flotilla along with looting the Robert and Good Intent coming out of Philadelphia harbor on October 22nd. When Blackbeard met up with Hornigold later in 1717 he only had one sloop and a small crew and they decided to part ways. Hornigold eventually ended up accepting the King's Pardon (1718). He would eventually go onto become a pirate hunter and track down his former friends and compatriots.
Becoming Blackbeard
While his former allies were beginning to settle down Blackbeard was just getting started. At this point he was a famous captain in his own right and by November of 1717, Teach was in command of Bonnet's ship the Revenge and his other captured sloop when they attacked a French slave frigate named the La Concorde off the coast of Saint Vincent and the Grenadines.
Teach fired a devastating broadside at the ship which killed many of the crew onboard. The captain surrendered the ship and its crew. Teach sailed the vessel along the islands of St. Vincent and the Grenadines to Bequia in the southern Caribbean. There they stopped to unload the cargo and retrofit the ship for pirating. The ship required extensive repairs and modifications to be suited for its use dominating the West Indies.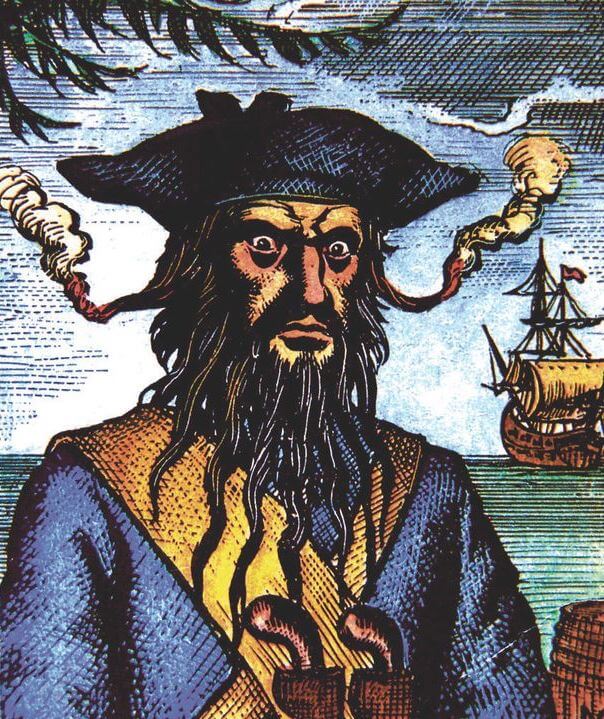 Teach bolstered the newly named Queen Anne's Revenge with forty cannons and in the process created one of the most fearsome warships of the era. Slave ships were often the fastest and most durable ships of the time so they made the most effective and powerful pirate ships. Designed to transport a perishable cargo across the Atlantic as fast as possible they become the fiercest of pirate ships when converted. Another famous slave ship converted to a pirate ships was the Whydah captained by Samuel Bellamy.
Bellamy stole the Whydah which was a state of the art ship that traveled at nearly 13 knots, an unheard of speed for a ship that size at the time. This enabled them to not only catch other ships but back up their claims with military force if necessary. Teach gave the crew of the La Concorde the smaller of Teach's sloops which they renamed Mauvaise Rencontre or Bad Meeting in English and sailed for the island of Martinique.
While some of the freed slaves may have joined Teach's crew, a majority of them were left on the island and later recaptured by the French. However it should be noted that Teach is sometimes known to have at least 40% of Africans as his crew. In fact, it was during this time period that the infamous freed slave turned pirate Black Caesar joined the crew of Blackbeard as his lieutenant aboard the Queen Annes Revenge. It is important to note the dichotomy between the pirates and the colonial powers in regard to their actions towards slavery.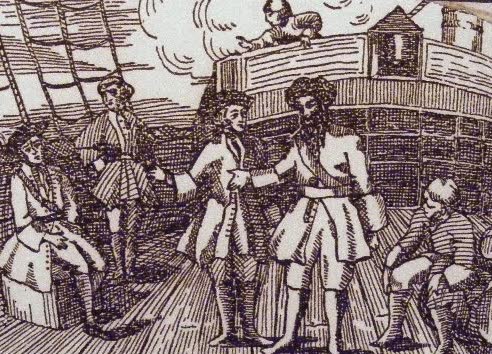 It was also most likely that sometime during this period between late November and December that Stede Bonnet was recovered from his wounds and resumed command of his ship and crew. As Blackbeard now had his massive prize flagship, Bonnet's sloop was of no further use to him. Blackbeard most likely gave Bonnet his ship back and they continued to pirate as partners, with multiple accounts acknowledging them working together.
On 30 November, Teach under the possible alias of Captain Kentish and Bonnet under his known alias of Captain Edwards captured a merchant ship from Montserrat using two larger ships and a sloop. The sloop was most likely Stede Bonnet with Blackbeard captaining a brigantine and the Queen Anne's Revenge.
In late November or early December Blackbeard attacked another merchant ship near Saint Vincent and the Grenadines named Great Allen. The merchant ship put up a good fight but was no match for the Queen Anne's Revenge. Blackbeard ordered the ship moved closer to shore where and his crew recruited pirates, looted the cargo hold and then burnt and sank the ship. The Boston News Letter documented the incident where they described Teach in command of a
"French ship of 32 Guns, a Briganteen of 10 guns and a Sloop of 12 guns."
It is unknown where Teach acquired the brigantine used in both accounts, however the sloop described in the article most likely refers to Stede Bonnet resuming command of the Revenge and aiding Blackbeard in the capture. Teach is also known to have been in command of nearly 150 men.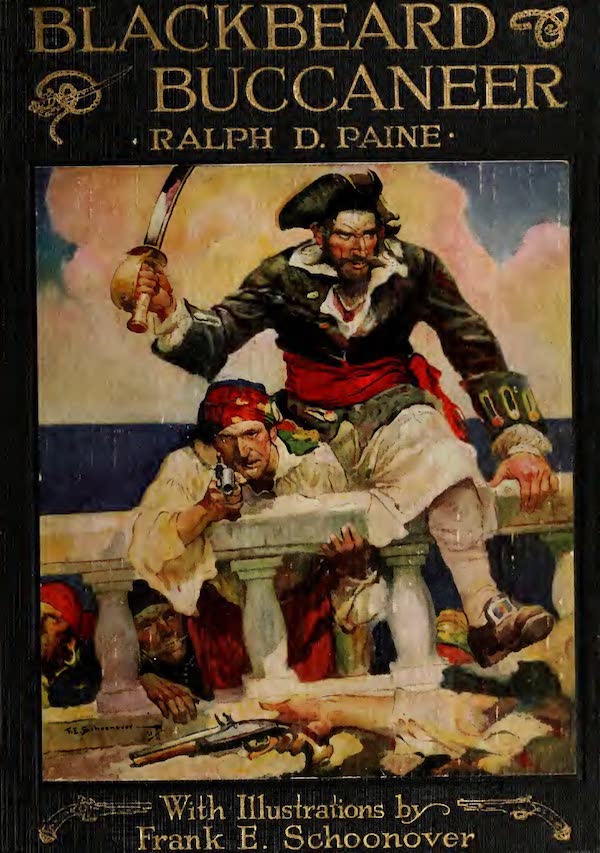 One of the best primary source accounts of Blackbeard comes on 5 December, as Blackbeard captures the merchant sloop Margaret off the coast of Crab Island near Anguilla and Sint Eustatius. Captain Henry Bostock were taken prisoner aboard the Queen Annes Revenge and were watched as their sloop was ransacked for eight hours. After the looting Blackbeard returned Bostock to the Margaret, albeit with a lighter load and allowed him to leave with his crew. Bostock returned to Saint Kitts and relayed the entire incident to governor Walter Hamilton with an affidavit.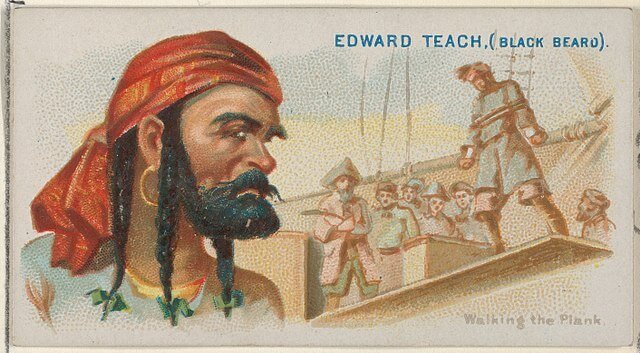 Located in the historical record, Bostock recorded Teach's vessels as being a sloop and a large French ship with thirty-six cannons and 300 men. The Queen Annes Revenge was supposed to have been carrying gold dust, silver plates and other cups and silverware stolen from the commander of the Great Allen. Teach recounts to Bostock that they wanted to sail to Hispaniola to ambush a Spanish Main treasure fleet at Samaná Bay that was sailing with gold to pay the Spanish soldiers garrisoned at the settlements.
When Bostock mentioned the royal pardon Blackbeard did not seem surprised by it. Bostock describes Blackbeard as being a tall man with a long black beard. This is the first recorded account of Blackbeards appearance. Later descriptions add red ribbons to the beard that was braided into pony tails. In battle teach would have a sling over his shoulders that held at least three flintlock pistols and would often stick lit matches under his hat to give a smokey and fearsome appearance. Despite having a brutal reputation he never killed or harmed anyone that he held prisoner.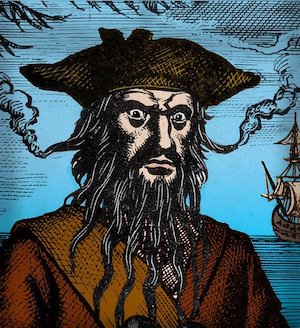 Captain Charles Johnson describes Blackbeard in his A History of Pyrates as "such a figure that imagination cannot form an idea of a fury from hell to look more frightful." Teach wore knee high boots, dark clothing and a wide hat. In battle or on occasion he would wear a brightly colored coat made of silk or velvet. The physical description Johnson gives has served as the modern basis is:
"So our Heroe, Captain Teach, assumed the Cognomen of Black-beard, from that large Quantity of Hair, which, like a frightful Meteor, covered his whole Face, and frightened America more than any Comet that has appeared there a long Time. This Beard was black, which he suffered to grow of an extravagant Length; as to Breadth, it came up to his Eyes; he was accustomed to twist it with Ribbons, in small Tails, after the Manner of our Ramilies Wiggs, and turn them about his Ears
A General History of Pyrates (1724)
Blackbeard's appearance and reputation were just that, fearsome. Blackbeard preferred to use his terrifying appearance and reputation to force merchant crews to surrender before a single shot was fired. This would save him valuable supplies and gold for each men that got injured required a payment and cannon balls did real damage to wooden ships.
Commodore Blackbeard
During this period, Captain Hume of the HMS Scarborough reported that on the 6th of February, a pirate ship with 36 guns and 250 men (the Queen Annes Revenge) and a sloop of 10 guns and 100 men were said to be sailing through the Leeward Islands. Hume, believing this to be Blackbeard with the Queen Anne's Revenge and one of his captured sloops had sunk a French ship off the coast of Saint Kitts and were traveling up the north side of Hispaniola.
After the attacks on the merchant ships it appears Stede Bonnet separated from Blackbeard for a little while. However in March of 1718 Bonnet let a massive merchant ship named the Protestant Caesar escape near the coast of Honduras. When Bonnet met up with Blackbeard again his frustrated crew abandoned him once again. Blackbeard gave the Revenge to his ally Richards.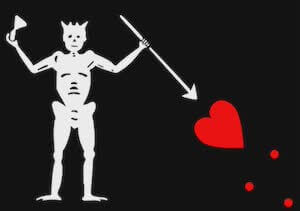 Soon after giving Richards command of the Revenge in March 1718, Blackbeard and his crew spotted a sloop named the Adventure taking in water at Turneffe Island, a little east of British Honduras. Captained by David Harriot, he and his crew decided to join the pirates instead of fighting them and the whole flotilla set sail for the Bay of Honduras. There they added another ship and four more sloops to their fleet. On April 9th, Teach's fleet engaged and attacked the Protestant Caesar that Bonnet had failed to loot a month earlier. Teach and his fleet then sailed towards the Grand Cayman and captured even more ships.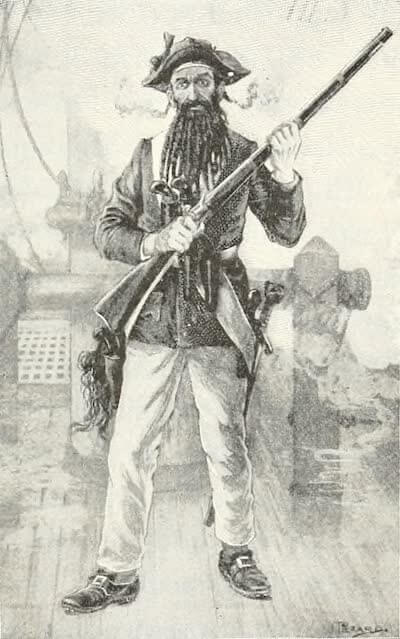 Teach then sailed north towards the capital of Havana at Cuba and captured a Spanish ship there and added it to his fleet. Next they sailed towards the sunken wrecks of the 1715 Spanish treasure fleet between La Florida and the Bahamas. There they released the crew of the captured Spanish ship and began heading north towards the port of Charles Town in the Province of South Carolina, capturing three more ships along the way.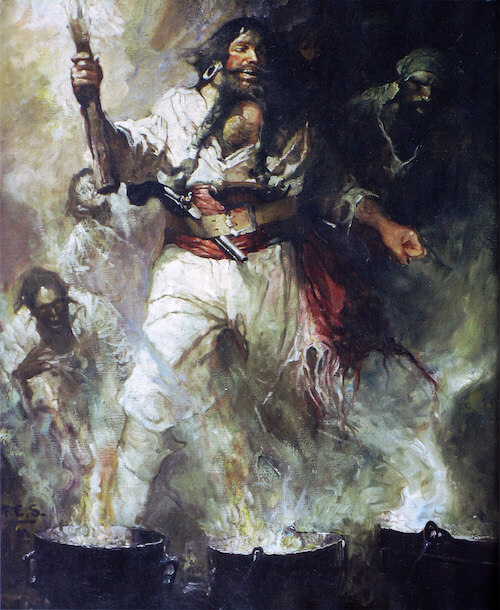 In May of 1718, Blackbeard was at the height of his power and even gave himself the rank of Commodore, a slap in the face to the British back home. He commanded a small fleet, one large enough to engage anything that the British Royal Navy could throw at it during the present circumstances. In fact some people back in Britain were worried the pirates would try to establish their own Commonwealth out of the Republic of Pirates.
Late in May, 1718 Blackbeard performed a risky move in order to get valuable medical supplies from the governor of the Province of South Carolina. Along with Stede Bonnet, he blockaded the port with his fleet of ships and over the next week raided all vessels entering or leaving the port in what became known as the Blockade of Charles Town. One of the ships was filled with prominent Charles Town citizens and then ransomed to the colonial government for medical supplies. If the government did not pay the ransom Blackbeard said he would kill all the prisoners, send the governor their heads and burn all of the ships.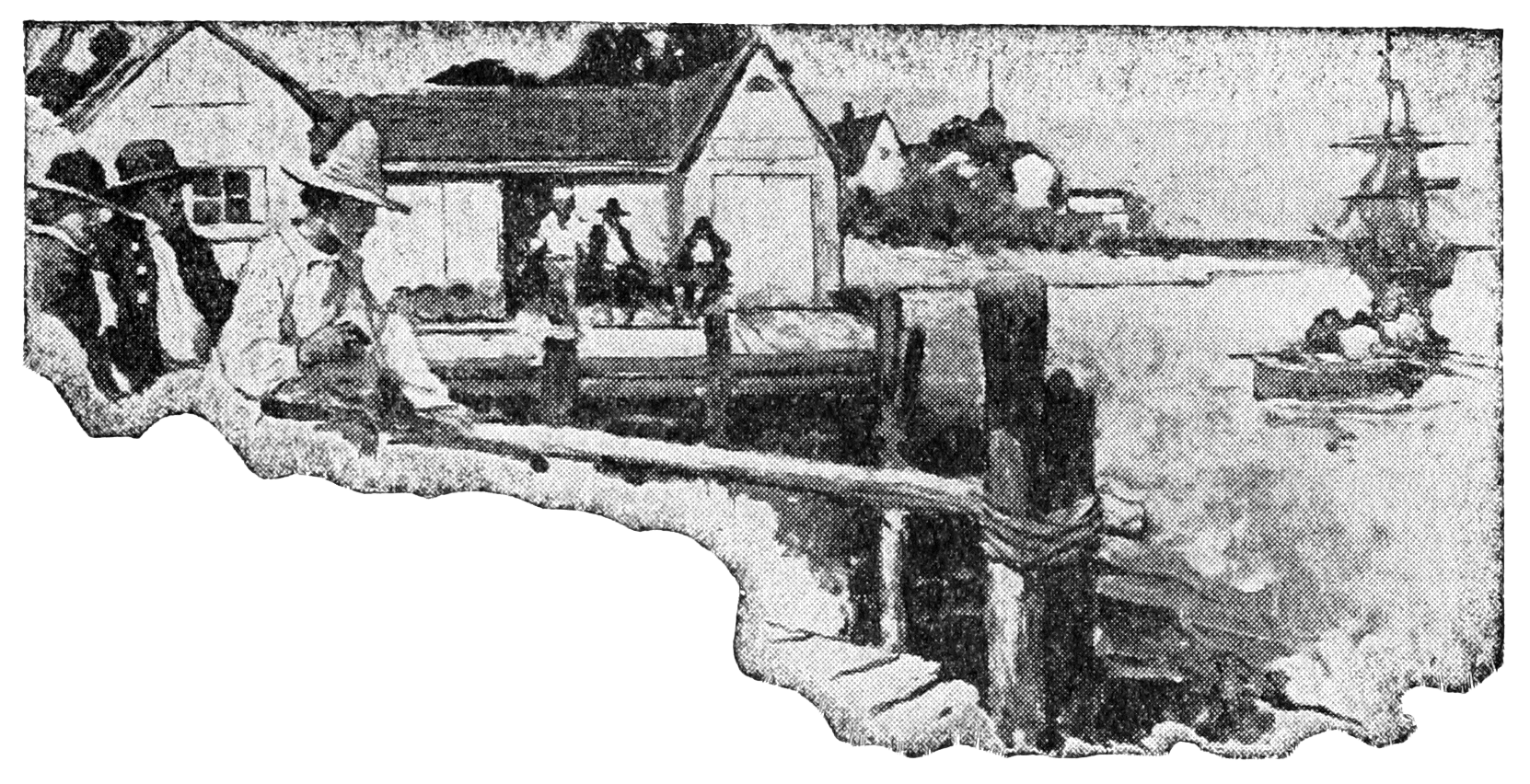 The Governor of South Carolina agreed to the demands and two pirates were sent to collect the medicine. Teach moved his fleet closer to land to ensure the speedy delivery of the medicine. However, three days past and a note came that said the boat had capsized and delayed the arrival of medicine to Charles Town. Teach gave them a few more days and yet the pirates still did not return with the medicine.
Blackbeard rallied his pirate crews and moved eight ships into Charles Town harbor which caused pandemonium in the town. When Marks finally returned with the drugs he explained to Blackbeard that his pirate escorts had run away to get drunk and could not be found. With the medicine onboard, Blackbeard kept his side of the deal and released all the prisoners, who were stripped of all valuables before being sent ashore.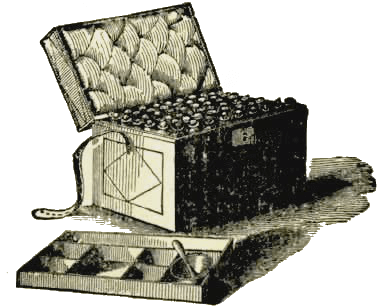 During the Blockade of Charles Town, Blackbeard learned that Woodes Rogers was coming to the New World with several well equipped man-of-war ships in order to get rid of piracy in the Caribbean once and for all by delivering the King's Pardon (1718). Hearing this, Teach and his crew sailed from Charles Town to Topsail Inlet, also known as Beaufort Inlet off the coast of North Carolina.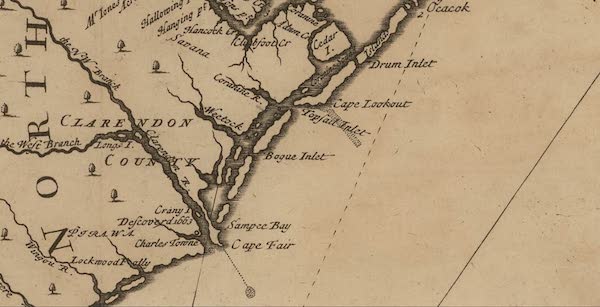 It was there that they intended to scrape the hulls and careen the ships, however Blackbeard had other plans in mind. Purposely running the Queen Anne's Revenge aground on a sandbar, the ships main mast and most of its timbers were destroyed in the impact. Blackbeard intentionally ran his ship aground because the ship and its fleet were attracting too much attention and merchant ships were waiting to sail. Also if Teach reduced his crew, he increased the amount of treasure shares he got. Blackbeard was never really one for the code. During the trial of Stede Bonnet's crew, Ignatius Pell testified that,
"The ship was run ashore and lost, which Thatch [Teach] caused to be done."
Teach and Bonnet knew full well about the Kings Pardon and Blackbeard suggested they get theirs. The pardon was open to all pirates, given they surrender on or before 5 September 1718. Immunity however was only offered for crime committed before 5 January. This meant that the Charles Town blockade would not fall under their pardon and both Teach and Bonnet could still be hung for it. However colonial authorities could pardon these actions, and therefore the pirates needed a man they could trust.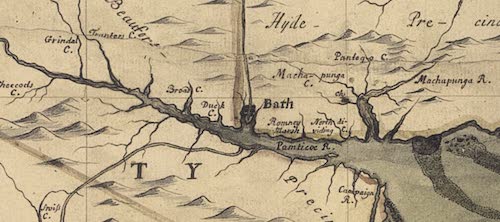 Chancing their fate with Governor <Charles Eden of the Province of North Carolina, Blackbeard and Teach set out for Bath in order to accept their pardon from the governor. Blackbeard also returned captaincy to Bonnet's Revenge at this time. Shortly after receiving their pardons, Blackbeard set out back for the Adventure and left Bonnet in Bath who wanted to obtain a commission to travel to Saint Thomas.
Blackbeard returned to his ships and stripped all vessels of their valuables, marooned about twenty-five of the crew and left aboard the Adventure with only a few of his most trusted allies. When Bonnet returned to the Revenge he found almost no provisions and loot aboard the ship and the pirates stranded on a sand bar a few miles away. He recruited the twenty-five men into his crew and set out in search of Blackbeard.
Blackbeard and his loyal, but smaller crew accepted their pardons from Governor Eden in June of 1718. Blackbeard settled in the town of Bath on the eastern side of Bath Creek at Plum Point. This was close to Governor Eden's home and in July and August he traveled numerous times between his home and his hideout on Ocracoke Inlet. Bonnet and the remainder of Blackbeard's Crew resumed piracy for a few months before being caught on 27 September, 1718.
By the end of August and Blackbeard had resumed piracy and the Governor of the Province of Pennsylvania issued a warrant for his arrest. However Blackbeard was already in Delaware Bay where he stole two French ships. Stealing one, he sailed his two ships back to his hideout on Ocracoke Island. In September Blackbeard told Governor Eden that he found the ship floating at sea deserted. A court session was quickly convened.
Tobias Knight and the Collector of Customs presided over the case and eventually judged the ship was derelict at sea and gave 20 hogsheads of sugar to Knight, sixty to Eden and whatever remained to Blackbeard. Thus he successfully was legally awarded his piracy prize.
See Charles Vane and Blackbeard
Cut off from colonial support, Blackbeard and his crew were on their own at this point. In what became known as the Battle of Ocracoke Inlet the pirate hunters sent by Spotswood engaged Blackbeard and his remaining crew and eventually ended up killing him.
Blackbeard's Legacy
The trade goods, along with others seized from Tobias Knight's barn were sold at auction for £2,238 and Governor Spotswood used this money to pay out the reward for the head of Blackbeard. The Crown kept the rest. Robert Maynard also found several correspondences on Blackbeard, including one from Tobias Knight, a ranking official in the colonial North Carolina government. It read:
November 17, 1718
My ffriend,
If this finds you yet in harbour I would have you make the best of your way up as soon as possible your affairs will let you. I have something more to to say to you than at present I can write; the bearer will tell you then end of our Indian Warr, and Ganet can tell you in part what I have to say to you, so referr you in some measure to him.
I really think these three men are heartily sorry at their difference with you and will be very willing to ask your pardon; if I may advise, be ffriends again, its better than falling out among your selves.
I expect the Governor this night or tomorrow, who I believe would be likewise glad to see you before you goe, I have not time to add save my hearty respects to you, and am your real ffriend.
And Servant
T. Knight
This essentially proves Blackbeard could have still accepted the pardon of the King legally through the North Carolina government, where he currently was residing. The Governor of Virginia, Alexander Spotswood, had no legal right or authority to order the execution of Blackbeard given these circumstances. Like William Kidd he was wrongfully pursued by the same group of people he was supposed to trust. Another example of why monarchies are not currently the most popular structure for government.
The bounty for the capture of Blackbeard was £400 however soon controversy arose over the division of the reward money. The prize money was to be split between the crews of the HMS Lyme and the HMS Pearl, however since only Captain Maynard and his small crews on the sloops were doing the fighting they should receive the prize money.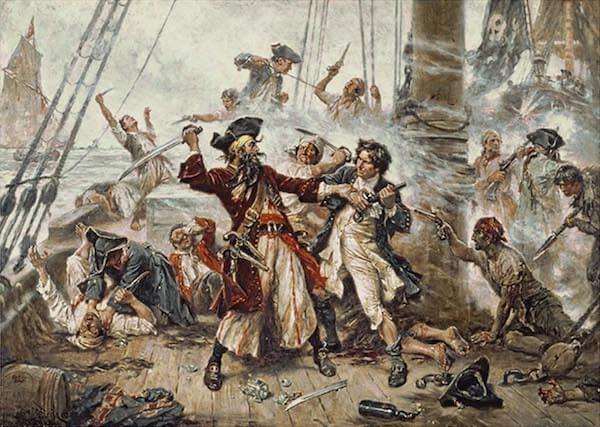 However Maynard lost much support for his cause when it was discovered him and his crew had taken some of Blackbeard's loot that amounted to about £90. No one received the prize money for four years and despite Maynard's success he faded into history. He was never promoted for his actions and in fact it seems nothing really beneficial happened to him for the slaying of Blackbeard. This was possibly because Blackbeard was hardly a bad person. He was well liked by his crew and the townsfolk of Bath, and it is rumored he never actually killed anyone except on the day that Maynard and his crew attacked him.
However after the slaying of Blackbeard his crew and former pirate allies were all found by Brand in Bath North Carolina. They were then all sent to Williamsburg, Virginia to be jailed and stand trial for charges of piracy. Several of Blackbeard's Crew were freed slaves from West Africa, and Spotswood actually contemplated their fate separately than their white counterparts.
Eventually on March 12th, 1719, Blackbeard's crew was tried in the Capitol building under admiralty law. There have been no records that survived of the trial, however 12 of the 16 were known to have been found guilty. Of the two that escaped the hangman's noose, one was a guest at a drinking party and had to fight against his will.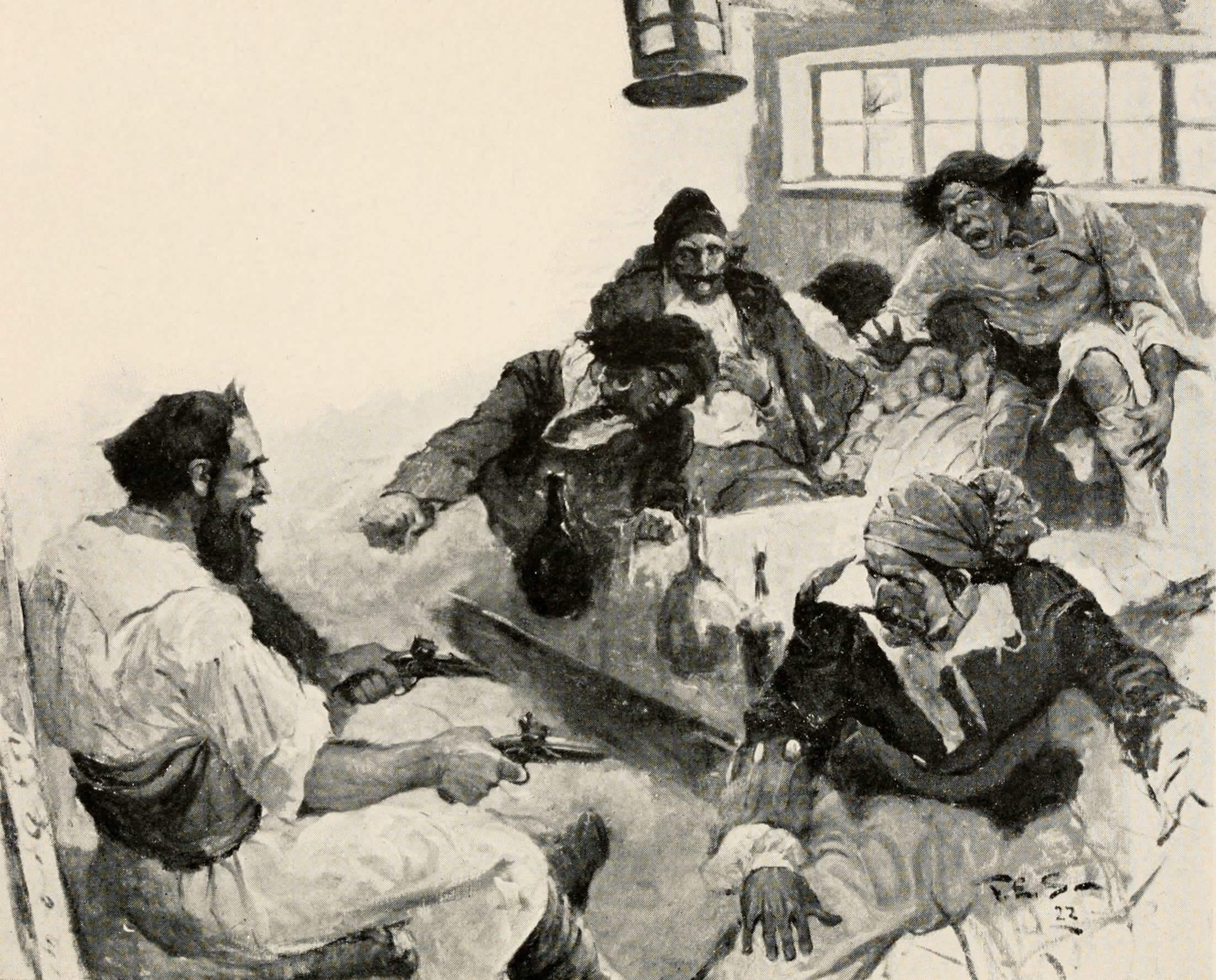 The other was Israel Hands who still claimed he was covered by the King's Pardon (1718). He even claimed Blackbeard shot him in the knee while they were drinking. The 14 pirates found guilty were sentenced to death and then hunt in gibbets along the Capitol Landing Road as a warning to other would-be pirates of their eventual fate.

Israel Hands also testified that chief justice and secretary of North Carolina Tobias Knight was affiliated with Blackbeard. Hands said that Knight was on board the Adventure in August of 1718 and knew about a captured French ship that Blackbeard brought to Ocracoke Island. Four other pirates testified that along with Blackbeard they had visited Knight's house in order to give him some treasures and presents.
Governor Eden & Spotswood
After his rogue military invasion of Ocracoke Island, Governor Spotswood distanced himself from the entire ordeal. He lied to Eden and said he had the authority of King George in eliminating the pirates. This left Governor Eden with much embarrassment as he was unaware of the operation the entire time. This was because Spotswood believed (possibly rightly so) that Eden was in league with Blackbeard and was even profiting off his piracy after the pardon was issued. Spotswood criticized Eden in order to try and gain legitimacy for his invasion after the fact as well.
Despite his actions, Governor Spotswood's invasion of the Province of North Carolina was illegal and he had no right to order an assault into North Carolina in order to capture the pirates and seize and auction their loot. In an effort to further cover his tracks, he accused Tobias Knight of being allied with Teach and on 4 April 1719 he had him brought in for questioning.
The testimony of the pirates and Hands along with the letter found on Blackbeard's body made Knight look incredibly guilty. However the chief justice was not one to be easily outdone. He conducted his own defense, despite being very sick and close to death. First he attacked the credibility of the pirate witnesses, saying they spoke under duress and then claimed the African had no right to testify at all under the law. He argued the sugar that was stored at his house was there legally, and Teach had only visited him after he had gotten his pardon. Tobias Knight was found guilty of all charges and he ended up dying later in the year. At this point Governor Eden figured out what was going on, and was upset he was not involved in the proceedings against Knight.
Eden continued to argue with Brand and Spotswood until his death on 17 March 1722. Eden hated Spotswood so much that he actually named one of his political opponents as a beneficiary in his will. This entire ordeal saw the end of Spotswood's political career. In 1722 he was replaced by Hugh Drysdale and lost his position as Governor of Virginia.
+ See All Pirates
Primary Sources