Pirates > Francis Spriggs
Francis Spriggs
Background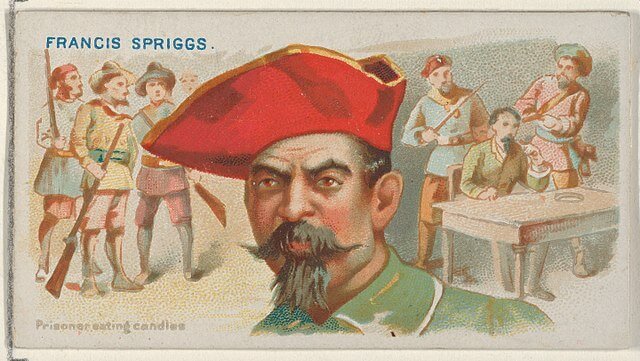 Francis Spriggs (Unknown - Unknown) was an English pirate that originally served under Edward Low as quartermaster. He is possibly one of the original crew members who left George Lowther. As he successfully raided ships with Low eventually he was given command of his own ship, a 12 cannon British sloop-of-war named the Squirel. Spriggs renamed the vessel to Delight and continued pirating with Low until Christmas of 1724.
Near Christmas Low and Spriggs had a falling out over how to govern their ships and Spriggs ended up deserting Low in the middle of the night as a result. After leaving Low Spriggs adopted the same flag as his previous partner and set sail for the Caribbean.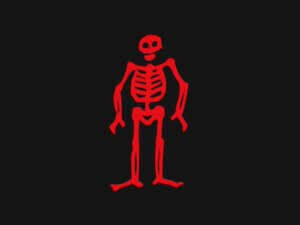 Spriggs first capture came on January 28th, 1725 when they looted a slaving ship out of Colony of Rhode Island & Providence Plantations that was captained by Richard Duffie. Next they captured a Portuguese ship and after they looted all of the goods on the ship the crew put the Portuguese through one of the worse tortures imaginable. This stuff makes invokes images of Francois L'Ollonais cutting through Spanish in his pursuit of riches and wealth.
During this mild form of torture a ring of candles is lit around the mainmast and each crew member of the victims ship was forced to run around while the pirates poked and jabbed them with knives, pikes and other weapons. After they finished torturing the Portuguese they were put back onto their ship which was subsequently lit on fire. These pirates were much more brutal than the scare tactics invoked by Edward 'Blackbeard' Teach and Bartholomew Roberts who took ships without ever firing a shot.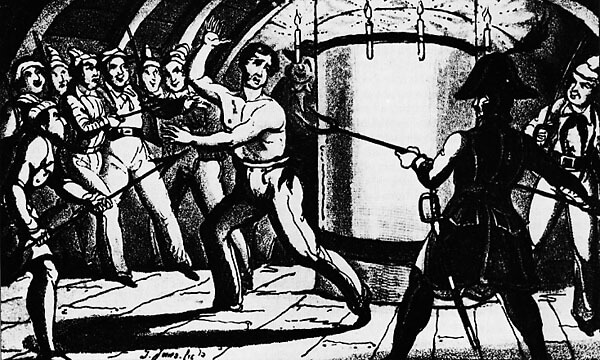 Shortly after his arrival in the Caribbean Spriggs and company captured the sloop of a Martinique merchant off the coast of Saint Lucia. The pirates looted as much of the merchant's logwood that would fit aboard their ship and then threw the rest in the ocean. Sailing in early 1724 off the coast of New England, Spriggs and his crew aboard the Delight received the news of the death of King George I and discussed the possibility of trying to obtain a royal pardon.
By early April of 1724 Spriggs anchored his fleet off the coast of Roatan in the Bay of Honduras off the coast of British Honduras and ordered many of the prisoners he took while pirating to be sent ashore. They were then freed in order to make Spriggs and crew look more legitimate however they displayed severe wounds indicative of the pirates torture. Some had even been forced to eat plates of hot wax.
After repairing and careening their ship on a nearby island, Spriggs and his diminished crew aboard the Delight sailed towards the British island of Saint Kitts in order to seek and destroy Captain Moor of the Eagle. Moor had recently tried to attack Spriggs' associate George Lowther near Blanco and the crew wanted revenge from the pirate hunter. However before they could find the pirate hunter Spriggs and his crew were forced to flee a French warship and headed towards Bermuda.
Capturing a schooner near Bermuda, they sailed back towards St. Kitts and captured another sloop on July 4th, 1724. This time Spriggs and his associates were much more brutal with their torture of the captured merchants. Spriggs and the crew hoisted their prisoners as high as the main or top sails and then would drop them onto the deck below. These exploits made the mention of Francis Spriggs strike fear in the hearts of unarmed merchants on the high seas.
Spriggs next incident came as his crew captured a ship coming out of Rhode Island carrying several horses. The pirates proceeded to take the horses out and attempt to ride them around the deck. They got angry at their prisoners when accidents occurred because the horses did not have boots and spurs. Next Spriggs and crew captured a sloop off the coast of Port Royal, which was now an anti-slavey execution center for pirates. This forced him to run from two British man-o-war's patrolling the region commonly known as one of the most intense Locations to have ever existed. The HMS Diamond and the HMS Spence tried to give chase but were too slow for Spriggs and his crew.
Next Spriggs captured another sloop before returning to the Bay of Honduras and capturing ten or twelve more before being chased off by a British man of war. After running again and pirating throughout the Province of South Carolina, Spriggs and company sailed back into the Bay of Honduras where he captured sixteen more ships. Encountering the same British man-of-war as before, Spriggs fled into the open sea.
Unknown Fate
It is unknown what eventually happened to Spriggs. Some accounts say he was active in the West Indies and Eastern Seaboard as of April 1725 when he captured several ships. According to one newspaper account he was active as late as June 25th, 1726 when he was marooned on the same island as Edward Low. The only known original copy of the Post-Boy newspaper owned by Eric Bjotvedt states on a front page report that a sloop from the Bay of Honduras was captured by a Spanish and when the Spanish were captured they were
"...put on board the Diamond Man of War, who had taken a Pyrate, commanded by one Cooper, and had a great many Prisoners on board, and was bound to Jamaica with them ... [and] that Lowe and Spriggs were both maroon'd, and were got among the Musketoo Indians."
Edward Low & Associates
Primary Sources