Pirate Ships > Schooner
Schooner
Background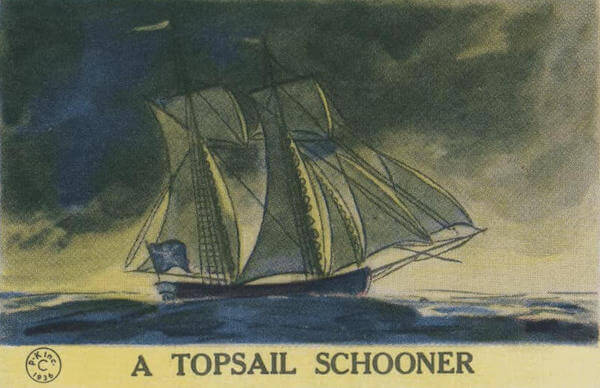 A schooner /ˈskuːnər/ is a type of sailing vessel with fore-and-aft sails on two or more masts, the foremast being shorter than the main and no taller than the mizzen if there is one. Originally gaff-rigged, modern schooners typically carry a Bermuda rig.
Such vessels were first used by the Dutch in the 16th or 17th century (the name derives from the Dutch Schoener). They were further developed in North America from the early 18th century, and came into extensive use in New England.[1] The most common type, with two masts, were popular in trades requiring speed and windward ability, such as slaving, privateering, blockade running, and offshore fishing.[2] In the Chesapeake Bay area several distinctive schooner types evolved, including the Baltimore clipper, bugeye, and pungy. Schooners were also popular among pirates in the West Indies during The Golden Age of Piracy, for their speed and agility. They could also sail in shallow waters, and while being considerably smaller than other ships of the time period (such as frigates and galleons), they could still hold enough cannons to intimidate merchant vessels into submission.
Schooners were popular on both sides of the Atlantic in the late nineteenth and early twentieth centuries, long dominating yacht races such as the America's Cup, but gradually gave way in Europe to the cutter.[3]
Schooners first evolved in the late 17th century from a variety of small two-masted gaff-rigged vessels used in the coast and estuaries of the Netherlands. Most were working craft but some pleasure yachts with schooner rigs were built for wealthy merchants and Dutch nobility. Following the arrival of the Dutch monarch William of Orange on the British throne, the British Royal Navy built a Royal yacht with a schooner rig in 1695, HMS Royal Transport. This vessel, captured in a detailed Admiralty model, is the earliest fully documented schooner.[4] Royal Transport was quickly noted for its speed and ease of handling, and mercantile vessels soon adopted the rig in Europe and in European colonies in North America. Schooners were immediately popular with colonial traders and fishermen in North America with the first documented reference to a schooner in the United States appearing in Boston port records in 1716.[5] North American shipbuilders quickly developed a variety of schooner forms for trading, fishing and privateering.
See All Famous Pirate Ships
Primary Sources
Secondary Sources