Buccaneers > English Buccaneers > Edward Mansvelt
Edward Mansvelt
Background
Edward Mansevelt (?? - ??), also spelled Mansfield was a famous buccaneer and his early life is unknown. However, by 1659 he acquired a privateering commission from the governor of British Jamaica named Edward D'Oley and was operating as a buccaneer out of Port Royal. By 1663 Mansvelt was in command of only a small buccaneering vessel but by 1665 he was the commander of a buccaneer invasion force of about two hundred that sacked an unknown Spanish town.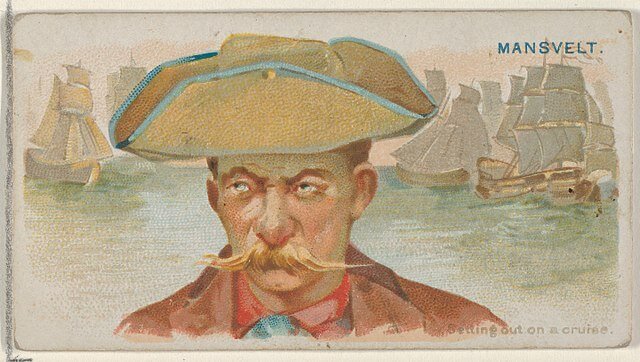 Following his victory the governor of Jamaica commissioned Mansvelt to attack the Dutch at Curacao. However, the buccaneers that were sailing with Mansvelt did not want to attack the Dutch and instead wanted to raid Spanish ships since they were usually more wealthy. According to Alexander Exquemelin next he plundered the islands of Grenada and Saint Catherines in January of 1666 but this is regarded as being false by modern historians. He is recorded to have next taken the rest of his fleet to the island of Santa Catalina.
Following this victory he was elected admiral of a buccaneer fleet consisting of five hundred men and ten ships. In April of 1666 he traveled to Costa Rica to attack the city of Cartago that was located several miles in the interior. However, the Spanish were able to defend against the buccaneer assault and they were repelled before they reached the town of Turrialba. Following the defeat some of the buccaneer captains left to return to Tortuga or Port Royal.
Mansvelt next sailed and attacked the island of Saint Catherine and sent a message to the governor of Jamaica in June of 1666 to send reinforcements to establish a settlement on the island. He wanted to make it a pirate haven to launch attacks on the Spanish but before he could see this vision through the governor died of disease. Exquemelin says that Mansvelt next went for another buccaneering voyage in June of 1666 and went to Tortuga. However, modern historians believe that he was captured by the Spanish off the coast of Cuba who executed him for being a pirate.
Primary Sources
Secondary Sources